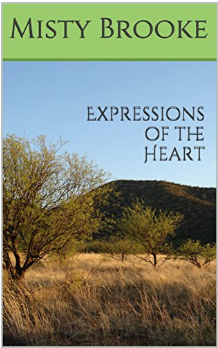 Within the realms of poetry are the freedoms to express creativity. There are no boundaries. Words are powerful. They reveal the yearnings, vulnerabilities, and faith of one's heart. Words extend beyond what is spoken. Words are life and death, love and pain, faith and fear. Choose them wisely.
Expressions of the Heart is a collection of poems, lyrics, and musings that I have written through the years. Some are old and some are new. Inside are words of imagination, faith, love, and pain. Be enlightened. Be encouraged. Be emotional. Be empowered!
For the brokenhearted, know that you are loved and never alone! God is with you, always. For the encouraged, always share your light, for it shines to those that are in darkness.